6 Ways To Get Your Dog Prepared For A Move
Published on: May 19, 2022 | Author: Starwood Pet Travel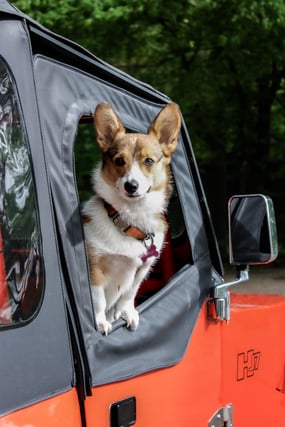 When you think of all the things you need to do to prepare for a long distance move, it can make your head swim. You have to coordinate packing and shipping your belongings and, at the same time, plan how you will get your family from Point A to Point B.
When you have a dog, you also have to prepare them for the move, too. That takes special considerations and advance planning, because moving a pet is more complex than moving your human family.
1. Be the alpha dog
You're the leader of the pack, even if you have just one dog. They look to you for guidance, so it's up to you to set the tone for the move by being consistently positive and calm. Your dog will immediately discern that something is up, and they will start to worry – what will happen to them? To allay their fears, speak to them in upbeat tones, smile and tell them how exciting it will be to explore new territory.
2. Act normal
Do everything you can to maintain your dog's everyday routine for walk time, feeding time, bedtime, etc. Minimize your pup's exposure to move-related confusion and unfamiliar people. A major move can bring on a revolving door of realtors, movers and other strangers that can overwhelm even dogs who love visitors.
And when packing begins and your dog sees "their" belongings disappearing into boxes, that could make them even more anxious. Consider doggie day care or a visit with friends on the most unnerving days. Make a special effort to spend as much time as you can playing with them, one-on-one, so they know they're still your best friend.
3. Introduce them to their travel kennel early
This is a priority. Your dog may or may not be crate-trained, but odds are you'll have to acquire a different kennel for air travel anyway. Airline-approved travel kennels must meet specific requirements for size, safety & security that far exceed most everyday-use kennels. The more time your dog has to get acclimated their new kennel, the more safe and comfortable it will feel to them. Put their favorite toys and treats in it, encourage them to sleep in it and leave the door open (or remove the top) so they can go in and out as they please. When it comes time to head to the airport, knowing they're in a home-away-from-home will help your dog feel more at ease. And when they arrive at your new destination, they'll immediately have something of their own to help smooth the transition.
3. Talk with your vet
You'll want to discuss any concerns that may affect your dog's ability to travel, such as overall health, breed and age. If your dog is a snub-nosed breed, ask about special precautions you should take to keep them comfortable. As soon as you can, find out what exams, immunizations, blood tests, treatments and paperwork are needed for your dog's import/export and when each one has to be completed, so you don't run into timing problems.
4. Research the "dog environment" in your new location
There are significant cultural differences around the world in how dogs are viewed. Many countries will not allow certain breeds such as Pit Bulls to enter the country, and a few such as Singapore put additional restrictions on other perceived-dangerous breeds such as Akitas. Make sure dogs are allowed and consider what their living conditions will be like as you're looking for a place to live.
Foreign countries often have different rules about how pets – especially dogs – are expected to behave in public, and some are much more restrictive in terms of where you can even take your dog for exercise and play time. You'll want to learn about licensing requirements and how to find a veterinarian, too.
6. Consult a professional pet shipper
Working with a professional pet shipper ensures your dog's travel arrangements will be as comfortable, safe and streamlined as possible, to minimize their stress during the journey and reduce potential for delays or problems along the way. This is also the best way to replace your own stress with peace of mind that your pooch is in the hands of professional experts who care about your dog as much as you do.
There are many things you can do to prepare your dog for a big move. By following these tips, your pup will be less stressed before the big day arrives and as they travel to their new digs.
Starwood Animal Transport has rebranded to Starwood Pet Travel. We are still the same great company with the best team, just now with a slightly different name.
Subscribe to the Blog
Enjoy our content? Get them sent to your inbox!
Subscribe Now!
Related Posts
Preparing Your Pet Before A Move
Moving can be exciting, but it's a lot of work. And if you think you're frazzled, how do you think the situation looks to your ...
Read More