Pet Friendly Hotels in Italy
Published on: July 17, 2018 | Author: Starwood Pet Travel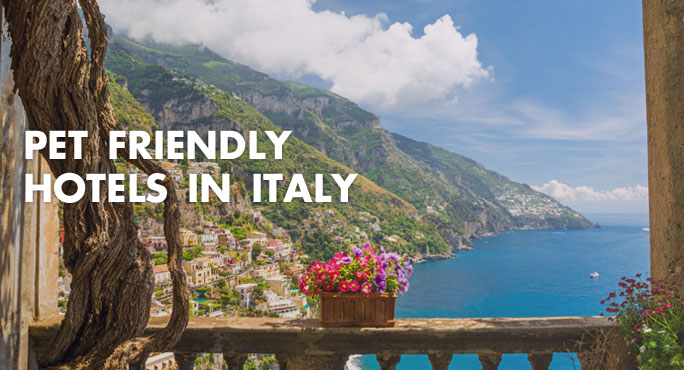 Oh, boy! You and your furry companion are going to Italy, to soak up some sun, revel in the millennia of history, and sample the wine and olives. Well, no wine or olives for your beloved pet, sorry. However, Italy is a pet-friendly place, so you can both expect a warm welcome.
Before you go, you'll want to brush up on Italian pet-quette, so you can instantly earn that warm welcome and plenty of praise. That's especially important, whether you're strolling the shopping districts or searching for a hotel. Good news on that front: there is no shortage of pet-friendly places to stay in Italy.
Where to stay?
What type of accommodation suits you and your pet most comfortably? That may depend on where you're going, but Italy is replete with pet-friendly lodging from hotels and B&Bs, to apartments, vacation rentals, and even campgrounds. No matter your budget, you can find pleasant, pet-friendly accommodations. In fact, you can spend anywhere from under $100 USD per night to 10 times that. (Don't panic, the vast majority of lodging options are well under that figure.)
Some places accept just one pet – typically a small one – whereas others are happy to accommodate your larger dog, or even more than one. Woof!
Would you and your furry friend prefer the cozier atmosphere of a B&B? This site allows you to search by region for bed and breakfast options throughout Italy.
BringFido is always a good resource to check when you're heading to a foreign country with your dog. Many of the Italian lodging properties they list have not been rated, but you can still check out all the amenities as well as prices – and of course visit each property's own website. Feeling shy about booking in Italian, or not sure the folks at your chosen accommodation speak English? No worries, you can book directly through BringFido, without paying a booking fee. For example, you might like:
Hotel Panorama Vce
Pza Santa Maria Elisabetta 1, Venice
Rated 5 bones
Accepts big dogs, up to 2
The Panorama Hotel is located at Venice Lido, in a historical building (naturally) in front of the Venetian lagoon. The property offers tons of amenities for humans.
Calzaiuoli Hotel
Via Dei Calzaiuoli, Florence, IT
Rated 5 bones
Alas, only small dogs, and only one
This property sits on the street that connects Palazzo Vecchio to Florence Dome. It may look like a 19th-century structure on the exterior, but inside lurks a medieval tower.
TripAdvisor is another trusted resource for international travelers. Check out this page to find TA's top 10 highest pet-friendly hotels throughout Italy. You can also click on separate links for dozens of specific cities and towns to zero in on your desired destinations. Which hotel ranks #1 overall?
It's located in Bologna, and it is grand, indeed. One might even say posh. This hotel is definitely not for the budget-minded pet (or pet parent), but what would you expect from the reportedly-best accommodation in the entire country? And who says you don't deserve a splurge?
On the other hand, if "luxury villas, boutique hotels and restorative resorts" are right up your cobblestoned alley, you'll want to check out these options. Mr. and Mrs. Smith also offer "guides to city breaks in Milan, lazy Tuscan summers and princely Puglian holidays to help you plan a perfetto getaway."
And speaking of planning that pet-perfect getaway to Italy . . .
If you'll be traveling in summer, note that in many locations around Italy dogs are not allowed on the beaches in summer because the most popular spots are very crowded with people. Nonetheless, there will be beaches and lakeshores you can both enjoy. So be sure to bone up on dog water safety.
Some seasoned travelers with pets recommend packing a small, folding crate (if your pet is petite). Others suggest that if your dear dog or cat is a finicky eater, you might want to check online to see if her favorite food is available in the cities or towns you will be visiting in Italy. Ditto for grooming salons, if that matters to you.
Tops on the food list, we're sure, will be a dinner date with your pet when you get to Rome. Fortunately, the city offers a multitude of canine-forward eateries.
The most important part of planning your trip to Italy is ensuring your pet travels safely and comfortably, so she can arrive rarin' to go. So give us a call. Our Starwood pet travel experts can arrange the purrfect door to door itinerary for your furry friend, while you concentrate on deciding on what to pack.
Starwood Animal Transport has rebranded to Starwood Pet Travel. We are still the same great company with the best team, just now with a slightly different name.
Subscribe to the Blog
Enjoy our content? Get them sent to your inbox!
Subscribe Now!
Related Posts
What to Look for in an Airline Pet Policy
Who knew you might have to become an expert on airline pet policies? Pet travel, by air as well as car, has increased ...
Read More