Norwegian Air Pet Policies
Published on: December 18, 2019 | Author: Starwood Pet Travel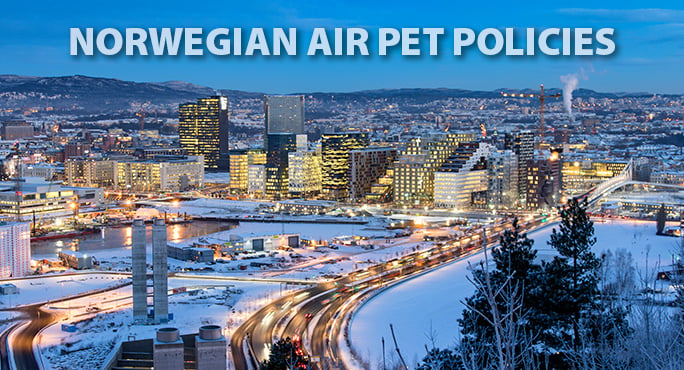 Norwegian Air may not be one of the world's most prominent airlines, but if you and your pet are international traveling buddies, some day you might want to book a flight on this carrier. For example, you may be surprised to learn that Norwegian Air operates multiple shuttle routes to and from cities within Argentina. Here's what you need to know about Norwegian Air's pet policies.
Dogs and cats are welcome, either in the cabin or in the cargo hold, within certain limitations. These relate to destination as well as pet size, and vary according to where on the plane your pet will ride. Travel conditions (air temperature and pressure) are the same in both the cabin and the cargo hold.
This airline does not ban any dog or cat breeds, but if your pet is a brachycephalic (flat-faced) breed, you will have to sign a waiver at the check-in counter. This acknowledges that you understand air travel can be more dangerous for snub-nosed dogs and cats, due to increasing breathing difficulties and possible overheating.
Travel paperwork
All pets traveling internationally must have specific documentation, as determined by the destination country. Norwegian Air requires this paperwork to be in English.
In-cabin pet travel
Cats and small dogs can sit with you in the passenger cabin on the following routes:
Flights within Schengen (Schengen is a group of European countries that have abolished international border-crossing requirements for member counties, for the purpose of streamlining travel and crime-fighting efforts. This is not an economic group like the EU. There are many overlapping countries between the two groups, not including the United Kingdom and Ireland.)
Flights within the EU (except for the UK and Ireland, because they don't participate in Schengen)
Domestic flights within Argentina
Your pet and her carrier together cannot weigh more than 17.6 pounds (8kg). The carrier must be specifically designed for air travel, and must not be larger than 17 x 12 x about 8 inches (43 x 31 x 20 cm). Norwegian Air recommends choosing a Sherpa-style carrier because the soft construction allows it to be more easily fitted under the seat in front of you even of it exceeds maximum dimensions. Whatever carrier you choose, it must:
Be roomy enough for your little one to stand, turn around, and lie down comfortably
Be leakproof
Norwegian Air allows no more than two pets per flight to ride in the cabin. However, if you're traveling with tiny kittens of puppies, you can put three in a single carrier as "one pet." Nonetheless, if you plan to cross any international border, be aware that most countries restrict the minimum age of puppies and kittens.
Travel as cargo
Dogs and cats that do not meet the requirements to ride in the cabin may ride in the cargo hold, as long as their crate does not exceed 49 x 32 x 34 inches (125 x 81 x 86 cm). Pets are allowed on:
Flights within Schengen or the European Union (except for Ireland and the UK)
Connecting flights within Norway (excluding to/from Svalbard) via Oslo Gardermoen, Bergen Flesland, and Trondheim Værnes Domestic flights within Argentina
Dogs only (no cats) are allowed to travel to and from Svalbard. Chances are slim that you and your dog will be going there, but if so you will need to get a permit in advance from the Norwegian Food Safety Authority.
The pet travel crate must:
Be constructed of a solid material (not wire mesh), clean and in good condition
Provide ventilation on all four sides
Not have any openings large enough for any portion of your pet (nose, tail, ears, toes) to protrude
Be leakproof
Be lined with something absorbent (a small blanket is most comfortable)
Norwegian Air requires you to check in at least one hour in advance of you traveling with a pet. They also recommend making your pet's reservation as early as possible, because the number of pets allowed on any given flight is limited. You can learn more about traveling with your cat or dog on Norwegian Air here.
Starwood Animal Transport has rebranded to Starwood Pet Travel. We are still the same great company with the best team, just now with a slightly different name.
Subscribe to the Blog
Enjoy our content? Get them sent to your inbox!
Subscribe Now!
Related Posts
Why Do Airlines Require Health Certificates?
Most airlines require pet health certificates, and the reason is simple. They want to ensure your cat or dog is not a risk - ...
Read More