Air France Pet Policy
Published on: March 30, 2022 | Author: Starwood Pet Travel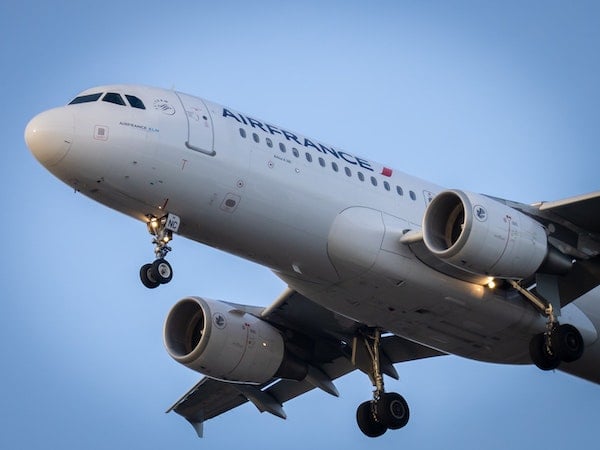 Air France welcomes some pets to travel in the passenger cabin, in the hold (what you might call "checked baggage"), or as freight (cargo), depending on their size, breed, destination and aircraft. You can research the airline's pet policies and rates in full detail on their website, but we have pulled together all the key information for you below.
In-cabin Travel
Cats and dogs weighing less than 8 kg (17 lbs) [including their travel carrier] may join you in the passenger cabin. However, you'll need permission from customer service, first. That said, pets are not allowed in Business Class on intercontinental flights. So if you are seated there, your pet will have to ride in the hold.
You may bring only one pet with you in-cabin. Your pet needs to be at least 15 weeks old and have all required vaccinations.
You will need to get a soft-sided in-cabin travel carrier that is no bigger than 46 x 28 x 24 cm / 18 x 11 x 9 in. The kennel must have plenty of ventilation and be large enough for your pet to stand up and spin around comfortably. It must also fit underneath the seat in front of you and you are not permitted to remove your pet from their carrier at any time during the flight. Your pet's travel kennel is considered an additional bag so you will need to pay a fee for this.
Accompanied Baggage in the Hold
Small pets that met the criteria for in-cabin travel may also ride in the hold as accompanied baggage, but all pets who weigh between 8 - 75 kg (17 - 165.3 lbs) (kennel included) are required to travel in the hold. The same age criteria apply as for in-cabin travel.
Air France allows you to reserve up to three animals in the hold per passenger, but it's important to note that not all flights or destinations can accommodate all size pets, so advance reservations are required. Check the airline's website for information about check-in times and allowances you'll need to make if you and your pet have a connecting flight.
For your pet's safety and comfort, riding in the hold or as freight, requires a kennel that meets International Air Transport Association guidelines. Air France allows only travel kennels that are fiberglass or hard plastic, fastened with bolts. If your pet's travel kennel is not acceptable, then they will not be able to fly.
Air France does not allow snub-nosed or brachycephalic breeds to travel as accompanied baggage in the hold.
Freight (Cargo) Travel
If your pets does not meet the criteria for traveling in-cabin or as accompanied baggage, or if they will be unaccompanied, then they will have to travel as freight (cargo). Note that some destination countries require all incoming pets to arrive as cargo – that supersedes airline policies. Some even require you to use an international pet transport company.
Breed restrictions
Air France has breed restrictions on cats and dogs they will allow to travel. Air France entirely bans Category 1 dogs (Staffordshire Terrier or American Staffordshire Terriers (pit bulls), Mastiffs and Tosas). Category 2 dogs may only travel as freight (cargo) and include these breeds: "pedigree Staffordshire Terriers, pedigree American Staffordshire Terriers, pedigree Tosas and dogs that are similar in morphology to the Rottweiler breed (with or without pedigree)". Do not guess - it is best to consult the customer service team to ensure you will not run into any issues.
While the snub-nosed breeds listed below are not allowed to fly in the hold, they may travel in-cabin or as freight (under special conditions):
Dogs - Affenpinscher, Boxers (all breeds), Bull Mastiff, Cane Corso, Chow-Chow, Great Danes (all breeds), some Spaniels (Tibetan, Japanese, English, King Charles), Brussels Griffon, Lhasa Apso, Mastiffs (all breeds), Neapolitan Mastiff, Pekingese, Small Brabant, Shih Tzu, Shar Pei, Staffordshire Bull Terrier
Cats - Burmese, Exotic Shorthair, Himalayan, Persian
Air France will NOT allow any of these breeds to travel as freight (cargo): Pug, Bulldog and Boston Terrier.
Documentation
Whether you're flying Air France to France itself or some other destination, it is vital to learn what official document, tests, and vaccinations your pet will need to fly and to enter your destination country. This should the first step in planning your journey, because it can take weeks (or months) to collect all the required paperwork. If you currently live in the United States, the Department of Agriculture has information that can help you.
Starwood Animal Transport has rebranded to Starwood Pet Travel. We are still the same great company with the best team, just now with a slightly different name.
Subscribe to the Blog
Enjoy our content? Get them sent to your inbox!
Subscribe Now!
Related Posts
Airlines and Flat Faced Dogs or Cats
Airlines are now giving special attention to flat-faced dogs and cats. These brachycephalic pets are considered unique cases ...
Read More