What You Must Know About Moving Your Pet To Mexico City
Published on: June 4, 2015 | Author: Starwood Pet Travel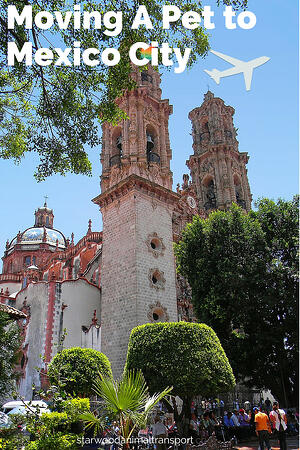 For families relocating internationally with their pets, Mexico City is – fortunately – a comparatively easy destination. Mexico is a pet-friendly country, though you may be surprised to learn that only cats and dogs are officially considered "pets," or mascotas in Spanish. The documentation you'll need to assemble is not nearly as cumbersome as it can be if you're moving to some other countries.
Happily, there is no quarantine in Mexico. The country does not ban any dog breeds, though some towns outside Mexico City do have breed restrictions.
You can move your pet by ground or air.
Mexico is readily accessible by car, so if you're taking your vehicle as part of your move to Mexico City, you can consider taking Fido or Fluffy with you. (There are other considerations for this, of course, not the least of which is how many days you actually want to spend in the car with your pets – and how cooperative they will be enduring that much "seat time.")
Air transport from the US to Mexico City can involve just one direct flight, if you're moving from Houston or any number of other cities. That streamlines your pet's move in ways you can both appreciate. With less air time and less chance of your pet having to change planes, you'll have less to worry about.
Depending on your airline, small dogs and cats may be allowed to travel in the cabin with you on your flight to Mexico City. Otherwise, they will need an IATA-approved kennel to travel as cargo. (They will actually ride in a section of the pressurized, temperature-controlled baggage area.)
Here's what you'll need:
Microchip that is ISO-compatible or meets AVID 9 or AVID 10 standards. The microchip must be implanted prior to rabies vaccination.
Certificate verifying rabies vaccination. Although the US and other countries often use 3-year rabies vaccines, Mexico does not, so expect to revaccinate your pet every year while you're living in Mexico City.
Various other vaccinations are recommended: distemper, hepatitis, leptospirosis, parainfluenza/ parvovirus and Bordetella for dogs; feline viral rhinotracheitis, calicivirus and panleukopenia for cats. These vaccinations must be given at least 15 days but not more than a year prior to travel.
Internal and external parasite treatments are not required if you're moving from the States. However, even though additional vaccinations and treatments are not mandatory, it's a good idea to fully protect your pets because different countries harbor different dangers for dogs and cats and you want your furry companions to stay safe and healthy no matter where they go with you.
Veterinary Health Certificate (USDA-APHIS for 7001) -- completed by an accredited vet no more than 10 days before departure, but it does not need to be endorsed by the USDA. You'll need the original (typed, not hand-written, if you're coming from the US) printed on letterhead and signed, plus a copy. The form can be in English or Spanish. You do not need to get an endorsement from the Mexican consulate.
Your pets may also be physically examined at the Office of Animal Health Inspection (ISA).
Note that there are fees associated with most of these services, although you may move up to three pets to Mexico without having to pay an import fee. It's possible to bring additional pets, but you'll need special permission and have to pay a fee. You're allowed to bring as much as 20kg of pet food (per family, not per pet) with you. This is a particularly good idea if your dog or cat is on a special diet, and in any case can give you one less immediate "to do" when you arrive in Mexico City.
Make it easy on yourself. Hire a pet travel pro.
Things can go wrong even with a relatively "simple" pet move such as to Mexico City. The less you leave to chance – or rely on what could be inaccurate information – the more relaxed you can be. For your own peace of mind and to ensure your perro or gato has the best possible travel experience, it's smart to work with an international pet transport firm.
Rules can change, so it is essential to understand the most current requirements. It's easy to find conflicting information on the internet about government rules, and it is equally easy to receive conflicting answers to your questions of airline employees. This is not only frustrating and time-wasting, you don't want to get sideways with customs, whether at the border or the airport. Getting help from accredited pet shipping professionals is really the only way to avert these potential problems.
Starwood Animal Transport has rebranded to Starwood Pet Travel. We are still the same great company with the best team, just now with a slightly different name.
Subscribe to the Blog
Enjoy our content? Get them sent to your inbox!
Subscribe Now!
Related Posts
4 Steps To Leaving Your Pet's Fleas Behind When You Move
Your dog or cat has fleas? Oh, dear. This needs to be fixed, and right away, for your pet's sake as well as yours. If you're ...
Read More