How to Exercise Your Dog in a Coastal City Affected by Climate Change
Published on: December 24, 2018 | Author: Starwood Pet Travel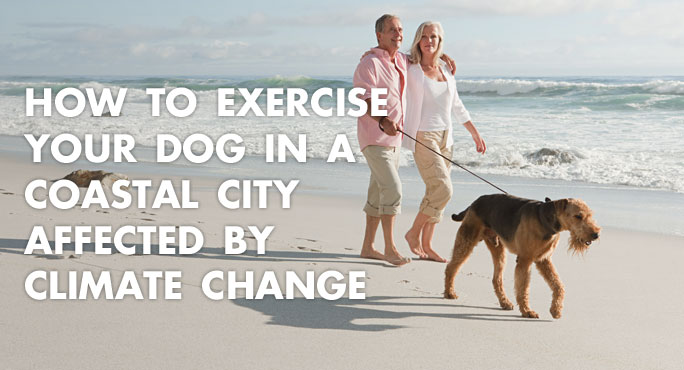 If you live in a coastal city, you can enjoy the beauties of the beach as well as the ever-changing surface of the sea. What a great place to spend your days. And what a great place to play and explore outdoors with your dog. But what will happen to your beloved beach – or the weather – as climate change makes itself more apparent?
Will rising water erase your favorite spots? What else could go wrong? We're already seeing early effects of climate change, all around the world.
Rising seas
The United Nations now warns that global warming will cause temperatures to rise by a bit more than 3o C by 2100, compared to pre-1900 (pre-industrial) temperatures. This will cause sea levels to rise dramatically, thanks to melting polar ice and expansion of water at higher temperatures. At least some scientists expect Asian coastal cities to be hardest hit, especially Osaka, Japan, and Shanghai, China.
In the United States, researchers looking as far out as 2050 say that all of the top 25 American cities most vulnerable to disastrous, irreversible coastal flooding are on the east coast (many in Florida). Miami is already seeing "king tides" that overwhelm barriers to flood downtown areas. And experts predict that even with "just" a 2o C increase in global warming, the entire lower third of Florida will be entirely underwater.
But that doesn't mean those along the west coast are without significant concerns. Take the iconic San Francisco Bay, for example. The average annual maximum temperature here has increased 1.7o (that's Fahrenheit, not Celsius) just since 1950. In the past 100 years, the Bay has risen 8 inches. There is less coastal fog, but steadily increasing acreage lost to large fires.
Researchers at UC Berkeley project the Bay will rise as much as 16 inches in some areas (and, by 2100, as much as 10 feet), inundating both the San Francisco and Oakland airports. They warn that, "The San Francisco Bay ecosystem, hemmed in by development, will have little room to adapt as beaches, marshes and mudflats disappear." Similar warnings are in place for coastal cities worldwide with low-lying airports and other critical infrastructure.
Rising temperatures
All of these predictions about drastic changes to the world we live in can feel overwhelmingly depressing. However, in the near term, climate change may not have much effect on how and where you and your pooch exercise. And much as you love to explore with your dog along the beach or coastline, the truth is he can get needed exercise anywhere, outdoors or even inside. But one thing scientists all agree on is that average temperatures will continue to rise.
Climate scientist Dr. Benjamin Strauss states, "Cities are certainly all going to be livable over the next 25 years, but they'll be increasingly feeling the heat." So while you'll might want to rethink where you go with your dog, you will definitely want to learn more about how to keep him cool on increasingly warm days.
There is something else you can do to help your dog deal with the effects of climate change. Weather is becoming more extreme and so are weather-related events. Still, many of us tend to overlook the importance of being prepared for natural disasters, which can strike entire regions or communities or, sometimes, just your home. Those preparations should include a pet component, with a few days' worth of doggie necessities as well as a pet-specific first aid kit and medications your dog cannot do without.
For now, the coast is still there for you and your dog
We already see the signs of climate change, but the reality is the process is slow – in human and especially in dog years. Dire effects may be upon us in another couple of decades or more, but in the near term, you and Fido can continue exercising as you always have.
Starwood Animal Transport has rebranded to Starwood Pet Travel. We are still the same great company with the best team, just now with a slightly different name.
Subscribe to the Blog
Enjoy our content? Get them sent to your inbox!
Subscribe Now!
Related Posts
Social Dog Walking Groups in the United Kingdom
If you're looking for some friendly folks and equally friendly canines to go walk-about with you, the UK is definitely the ...
Read More