Where to Take Your Dog Out for Dinner in Rome
Published on: March 30, 2018 | Author: Starwood Pet Travel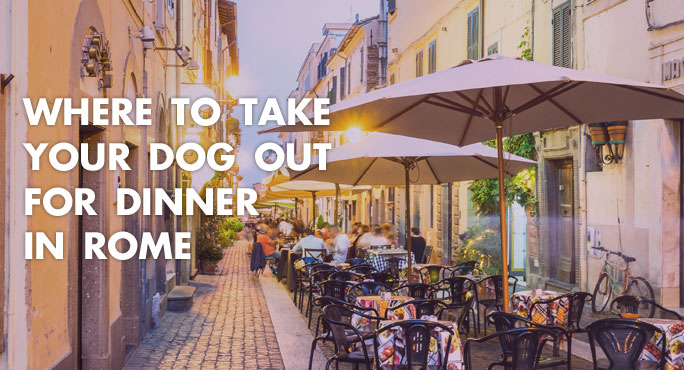 With the warmth of spring and the approaching summer, what devoted dog owner doesn't dream of taking their Best Friend out for dinner at one of Rome's many sidewalk cafés? Of course, it doesn't have to be dinner. Rome is famous for its coffee and wine as well as innumerable delectable culinary dishes. You and your dear Maxwell (or Missy) can hit the streets in search of a beverage or snack at any time.
Romans famously love their dogs, and have done so for centuries. So it's not surprising that dogs are welcome for outdoor seating at restaurants. Some will even allow your pooch to join you inside.
Where should you eat?
Bring Fido, a popular website for all things fun to do with your dog, suggests these three:
Hotel Delle Muse Restaurant
Via Tommaso Salvini 18
Regional cuisine
4.0 rating on TripAdvisor
Millennium
Via Tor tre Teste 35
Pizza and other typical Roman cuisine, with vegetarian and Gluten-free options and, for your dear pooch, "dog homemade ice cream."
3.0 rating on TripAdvisor
Taqueria El Paso
Lungotevere degli Anguillara, banchine del Tevere
TexMex in Rome. Why not? Open from June to August, along the Tiber under Ponte Garibaldi, with Bau Bar just for dogs.
4.5 rating on TripAdvisor
And Yelp reviewers especially like these options:
Wonderful Ice Cream
Via Nazionale 160
5 stars
"Excellent choices! There must have been 30 or so flavours. The staff were really friendly and were not shy on they portions. It's close to the colosseum and offers a roomy area to sit and enjoy your gelato."
Get some for your pup, too!
Antico Caffè Greco
Via dei Condotti 86
4 stars
"Just the perfect place not only for a cafe but also for a lunch. May seem a bit expensive but everything is just perfect. In addition, every glass of wine comes with a tray of "bouchée." Irish or Italian coffees are ideal. Cakes are huge."
"Located right near the Spanish steps and a few stores down from Ferragamo, Dior, etc...Loved loved loved the cannolis here! If you're torn and interested in trying it all, you can even mix and match two flavors in one cannoli: one on each end."
Caffè del Pincio
Piazza Bucarest
4 stars
"Great place to have a coffee with a pastry, a glass of wine complemented with a beautiful view of the eternal city. Not too expensive, however the menu could include more items. Those with ornithophobia should stay away, for there are numerous pigeons roaming this place."
Perhaps not the best choice if your dog is overly pigeon-aware.
Ex Circus
Via della Vetrina 15 (near Piazza Navona)
4 stars
"Very cute and cozy internet cafe with a menu full of all sorts of teas, coffee, hot chocolate, smoothies, desserts, sandwiches and more! Really clean and nicely decorated environment. The staff are super nice and fluent in English. A little more pricey than your regular tea/coffee shop."
Roaming around Rome with your four-legged friend
When your nosh is complete, you and Max or Missy can head out to see the sights or take advantage of the only-in-Rome shopping. Dogs are not only welcome at restaurants, they are also welcome in many stores, at public landmarks, and even on the subway.
Just remember that a popular pup is a well-behaved pup. Knowing the rules of petiquette in Italy will help both of you earn smiles and, possibly pets (OK, maybe petting only for the dog, but you get our point).
If you're moving to Italy with your dog or planning to vacation there this summer, one of the many things you'll need to do before you go is make sure your guy has had all the required vaccinations. Each country has its own list of what is needed, but this 2018 update on vaccinations needed for European travel will give you a good overview.
Call us now to beat the summer rush
We strongly recommend securing your travel arrangements right away – yours and, even more importantly, your dog's. Things heat up in the summer, travel-wise, and you don't want to miss out on the dates you need. Besides, if you let our Starwood experts handle all the details for Missy or Maxwell, you can focus on more fun things such as planning your travels around Rome.
Starwood Animal Transport has rebranded to Starwood Pet Travel. We are still the same great company with the best team, just now with a slightly different name.
Subscribe to the Blog
Enjoy our content? Get them sent to your inbox!
Subscribe Now!
Related Posts
6 Ways To Get Your Dog Prepared For A Move
When you think of all the things you need to do to prepare for a long distance move, it can make your head swim. You have to ...
Read More