Why Choose A Rescue Animal As Your Pet
Published on: January 6, 2017 | Author: Starwood Pet Travel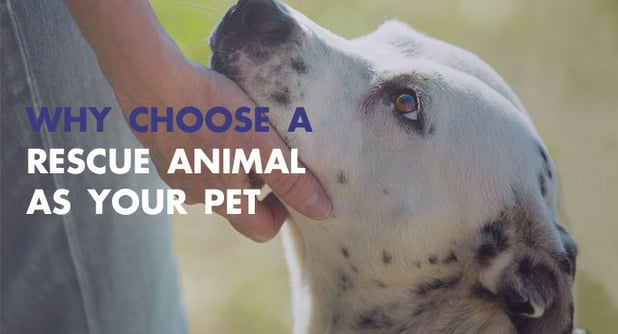 Most anyone who owns a rescue pet will tell you these animals seem to know they've been saved from a terrible – and undoubtedly short – life. Whether they start out as a tough case that needs patient winning over, or they immediately wag or purr their way into your affections, they want to trust in you. And they do.

Millions of Reasons to Adopt
The Humane Society of the United States reports that 4 to 5 million – million – shelter animals are "put to sleep" every year. They are killed simply because they cannot find a home. Few of them deserve it. That reason alone should be enough to convince any pet-lover to adopt.
Rescue animals come in all shapes, sizes and ages. And they aren't only dogs and cats. You can often find other pets at shelters, from iguanas and hamsters to rabbits and chickens. Looking for a pet ferret? Check out your local shelter.
Every rescue animal is unique. Who wants a pet that's just the same as the pet next door? Are you looking for an exuberant, fearless flyball, or a hiking companion? A quiet, cuddly furry companion to share couch time? Whatever your human family is like, there is a rescue pet to match your lifestyle.
Some prospective pet parents are reluctant to adopt because they've heard stories. Rescue animals are sure to be "problem children." After all, in most cases, you can't even be sure of what you're getting. There's probably something wrong with them physically. Or they're too mean or out-of-control to become a reliably safe pet. Why else would they wind up in a shelter? It's much better to buy a pet from a store or a breeder.
These are myths.
The truth is, there are many reasons dogs and cats end up in shelters. They are collected during and after natural disasters. Pets that are lost under these conditions cannot always be reunited with their families. Animals are also confiscated from hoarding situations and puppy mills. And often, they come from loving home situations, where their owners:
Move and cannot take their pets with them.
Suffer personal problems such as divorce.
Can no longer afford to care for their pet.
Have acquired too many animals (oops, that unplanned litter).
No longer have time for their pet. This can happen with a job change, or with couples who start a family. The baby takes time precedence, or their pet doesn't respond well to the new baby or toddlers.
And, yes, many are born to unneutered and unwanted cats and dogs left to fend for themselves. If you adopt a rescue you won't have to worry about that problem. Your pet will be neutered, medically checked out, vaccinated, and microchipped before you take her home.
It's also important to understand that a lot of cats and dogs don't "show" well under shelter conditions. It's tough to be cheery and outgoing when you're scared. Shelters can be noisy and chaotic, and the animals get less human attention than they would secretly love to enjoy. Some of them just shut down. Or they act out.
If you take the time to look past the cutest face in the whole place, or the most vigorously wagging tail or loudest purr, you're likely to find the sweetest, most loving and loyal pet you could ever imagine. (And he might still be the cutest!) Check out some general rules we outlined in our article about how to go about selecting a pet for your family.
Given all these reasons, you'll find purebred dogs at shelters as well as blended breeds. If you have your heart set on a particular breed, look online for a breed-specific rescue group near you. These groups (and some no-kill shelters) typically put animals in foster homes rather than kennels, so they can experience maximum human interaction and become socialized. This makes it easier to realistically evaluate each animal's personality and attitude toward adults, kids, and other animals.
And here's something else to consider. These days, DNA testing for dogs is widely available, and it's not costly. You can solve the mystery of your new pooch's ancestry, and you'll learn a lot about him or her in the process.
Finding a pet online can also open the door for a lot of problems. Read our article where we discuss the dangers of online puppy purchases.
HOW TO CHOOSE THE PERFECT RESCUE PETS
Just say no to puppy mills. That's where most pet store puppies and kittens come from. Irresponsible backyard breeders and commercial puppy mills exist to make a profit, not to provide healthy, nurturing environments for their animals. When you buy one of these animals, you're helping perpetuate this sorry state of affairs. You won't have any trouble finding an adorable puppy or kitten from reputable shelters and rescue groups. And you'll get a healthy, social pet.
Starwood Animal Transport has rebranded to Starwood Pet Travel. We are still the same great company with the best team, just now with a slightly different name.
Subscribe to the Blog
Enjoy our content? Get them sent to your inbox!
Subscribe Now!
Related Posts
The ARK at JFK: Luxury for Pets During A Move
Did you see the recent news story about the "ARK" that's being constructed at John F. Kennedy International Airport? When your ...
Read More