23 Easy-Ship Housewarming Gifts for Pet Lovers
Published on: June 24, 2016 | Author: Starwood Pet Travel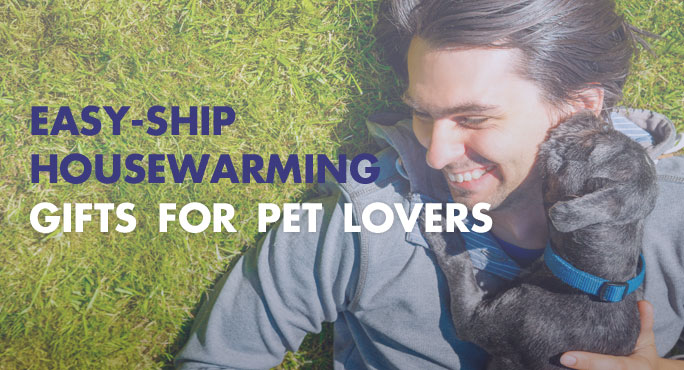 If your friend or loved one is moving house, a housewarming gift is always welcome. And we all know the way to any pet lover's heart is through their cat or dog. So we've compiled this list of 23 easy-ship housewarming gifts for pet lovers.The "easy-ship" part is particularly important if your gift recipient is moving overseas. International shipping can be quite expensive (assuming your retail or online store can even do that). On the other hand, anything light and/or flat can be gifted before your friend leaves, then packed with their other belongings to be shipped or easily slipped into a suitcase or tote.
Pet print kitchen towels and hot pad holders that say, "Home is where my dog (cat) is."
Pet placemats.
Coasters with cute pictures or fun sayings.
Pet motif blankets – for people or pets.
Coffee mugs or apparel with clever savings – we especially like the ones that say, "Love is a four-legged word."
Dog-bone or kitty shaped tins for baking – bake cookies for you, treats for Miss Kitty and Fido.
Pet-perfect photo frames, adorned with paw prints and other motifs. Personalize your gift by taking a photo of their pet and mounting it in the frame before you wrap it.
License plate frames shaped like dog bones or decorated with paw prints. (Be careful with this, though. If your pet-loving recipient is moving to a foreign country, license plates there may be an entirely different shape.
Collapsible pet accessories such as food and water dishes are great for camping or any away-from-home travel. If your pet lover will fly with her pet on board the plane, give these in advance for sure, as they will come in very handy during the flight.
How 'bout a new toy? Consider a Canines For Veterans gift bucket filled with dog toys and treats. Proceeds benefit this charitable organization.
Or a Thundershirt to help your friend's dog weather his transition more calmly. He can't wear it in transit, but it could help reduce anxiety as he gets used to the sounds of his new surroundings – especially if he's moving from a relatively quiet country setting to an urban environment filled with loud noises.
Interactive feeding bowls, puzzles and toys for cats and dog are educational and fun. They help calm animals, too, by focusing their attention.
"Potty pads" to have on hand in the new home, in case there are a few getting-adjusted accidents.
Is your friend moving to a much colder or wetter climate? Dog booties are the perfect gift.
Wind-up mouse.
Bag of catnip mice – or what about a tin of organic catnip?
Cat Dreams DVD, a 90-minute continuous loop featuring sights and sounds to keep Miss Kitty occupied when you're away.
The ultimate in indulgence – a heated cat bed.
Does the move entail a long flight? Why not give your friend one or two beloved classic pet stories to help pass the time? Books such as The Incredible Journey and White Fang are well worth re-reading as an adult, even if your friend once read them as a child.
101 Dog Tricks is another book idea, one that can provide hours of fun in the new home. The tricks help train dogs as they entertain them.
What if your pet-loving friend would love to have a dog, but their new surroundings won't allow it? Recycled newspaper dogs add a friendly canine touch without the need to feed or walk.
Gift certificates are the easiest of all gifts to ship, whether they're printed out or available online for future download. You can purchase a certificate for a pet supply store near your friend's new home, no matter where it is.
But the best gift of all for cat-lovers' could be a subscription to KitNipBox. Your friend will receive a box of goodies for their cat every month, as long as their new home is somewhere in the US, Canada or the UK.
Starwood Animal Transport has rebranded to Starwood Pet Travel. We are still the same great company with the best team, just now with a slightly different name.
Subscribe to the Blog
Enjoy our content? Get them sent to your inbox!
Subscribe Now!
Related Posts
Best Dog Beaches In Europe
Pet lovers around the world are traveling more often with pets in tow, especially their dog. And why not? Your best friend is ...
Read More