Tips To Help Me Move Overseas With My Pets
Published on: June 6, 2022 | Author: Starwood Pet Travel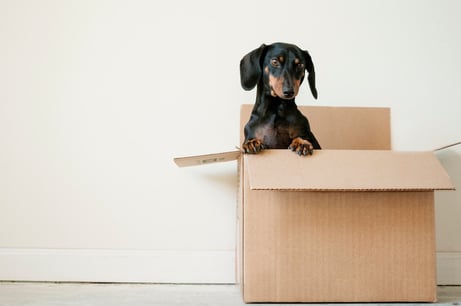 One good thing to do when you're considering moving overseas with pets is to read online forums or blogs written by expats living in your potential destination country. You can learn about their personal experiences relocating with pets and get some great tips on how to handle the small details you might not even have thought about.
However, it's important to be aware that not everything you read online – including advice from those who've "been there," is necessarily accurate. For one thing, the rules change, so an article may be out of date. Or the author may have had an off-normal experience. You don't want to find out once your pet has landed that there are customs issues because you got bad advice. By that point in your move, especially, you want things to go as smoothly as possible.
Hire a professional pet transport company.
Toward that end, the best tip you'll read is the one that recommends hiring an international pet transport company to assist you and your dog or cat with the moving process. Pet transport companies know things that you wouldn't because they move animals around the world everyday. They can streamline your furry family's itinerary so it's less stressful, obtain all the necessary paperwork and literally transport your cat or dog door-to-door.
They have your back in case of delays or any last-minute issues. Knowing your pets will be in good hands makes it easier to concentrate on the myriad other challenges associated with moving overseas.
For some destinations, you will actually be required to use a commercial pet shipper. But by and large you can indeed handle your pets' move yourself, if you wish to do so.
Make sure you have an IATA-compliant travel kennel.
The International Air Transport Association (IATA) has detailed guidelines for travel kennels that are used for pets who are flying as cargo or accompanied baggage. It's easy to look up this information and purchase what you need online. Make sure you measure your pet as accurately as possible and never underestimate their measurements or what size travel kennel they might need. If the airline deems your pet's travel kennel too small on the day of departure, then they can be refused for travel.
Cats and smaller dogs are sometimes allowed to ride in-cabin with you under the seat in front of you. Once you have made sure this is possible and permitted for your pet, you can use a smaller hard-sided or soft-sided carrier that still meets IATA and your airline's criteria for safe pet travel.
Ensure your pet is compliant with the pet import requirements.
For many countries, the requirements for moving with your pets aren't so much onerous as tedious. The bottom line for every country is your pet's health, because no country wants to import disease or pests. Look for official information published by your destination country, and then double-check it. Thankfully, mandatory quarantine is much less common than it was in the past.
Keep in mind that pet import requirements are often time-sensitive based on your pet's travel date and these need to be completed in-office by a veterinarian - not by you at home.
Although the exact requirements vary from one country to another, you can count on needing the following for each of your pets:
A 15-digit microchip

Current rabies vaccination

Up to date general vaccinations (dogs typically require DHPP, Bordetella, Leptospirosis & CIV while cats usually require FVRCP & sometimes FeLV)

International health certificate with USDA endorsement (if traveling internationally)

Domestic health certificate (if traveling within the USA)

Additional blood tests (depending on your destination country)
Import permit (depending on your destination country)
Internal & external parasite treatments [effective against worms, ticks & fleas] (depending on your destination country)
Additional required treatments (depending on your destination country)
Generally speaking, if you start early to allow yourself enough time to bring your pet to the vet for their required treatments and gather all relevant documentation, you'll be in good shape. But you still need to transport your pet from your current home to your new one.
Be flexible with how your pet will get to their new home.
When pets are traveling on a plane, they do not have the same number of options that human passengers have. Not all airlines accept pets for travel and some of them will only accept certain breeds and they have temperature restrictions. Some take pets only on certain flights because of the size of the plane. Some have excellent pet care and handling, while others may not be considered as "pet-friendly." Most airlines have temperature restrictions or embargoes for live animals when it's very hot or very cold at any point on your pet's itinerary, which can throw a big wrench in your travel plans at the last minute.
While in theory it sounds nice to be able to have your pet either in-cabin with you or flying as accompanied baggage on the same flight, this is not always possible. Some airlines will not allow pets to travel any other way than as manifest cargo and you are not guaranteed to be on the same flight as your pet. However, do not fret as it is not necessary for you to be on the same flight as your pet and in some cases won't be possible anyway.
Pet travel works differently than human travel, so you will need to stay flexible in case your pet's itinerary does not end up being exactly what you wanted. The most important thing is that your pet is well taken care of and is safe throughout their travels.
Lean on people with prior experience.
Expats, colleagues and others in the country where you are headed can be fabulous resources for locating a great veterinarian, dog parks, etc. and for learning about local norms or laws regarding licensing and general pet behavior. They can also be invaluable tipsters when it comes to finding pet-friendly living accommodations in your new country. While you may need to take some advice with a grain of salt, you can still find a plethora of helpful information. Make sure you look at a variety of different resources so you can get a full picture, without reading too much biased feedback. The more tips you gather beforehand, the more you'll enjoy your move and your new home.
Starwood Animal Transport has rebranded to Starwood Pet Travel. We are still the same great company with the best team, just now with a slightly different name.
Subscribe to the Blog
Enjoy our content? Get them sent to your inbox!
Subscribe Now!
Related Posts
10 Steps to Prepare Your Pet for a Move
Moving can be exciting, especially if you're moving far away, perhaps even to a foreign land. But preparing to move is a big ...
Read More