Relocation Can Be A Stressful Time For Pets, Too
Published on: April 20, 2022 | Author: Starwood Pet Travel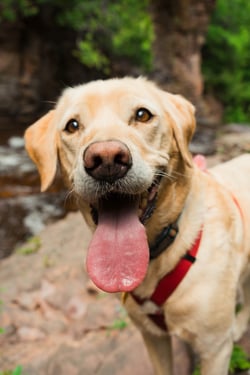 If you think organizing your long-distance move is nerve-wracking, imagine how your pets must feel. At least you can talk to people and understand what's happening. Whether your move will take you and your furry family across the country or half-way around the world, there are specific things you can do to help your pets relocate without undue trauma for them or you.
Be understanding
Consider your moving preparations through their eyes. Everything that is familiar to them is unraveling. Your household belongings – the things they're used to seeing and smelling that represent "home" – are being moved around and packed away. Unfamiliar people are coming and going, from realtors to cleaners to the packing crew. You're distracted and supremely busy, so your cat's meal schedule is probably off, and your dog's daily walk is short or missing. Maybe your temper is getting short, too.
Dogs, especially, can exhibit health-related responses to stress. They may vomit, develop diarrhea, stop eating or become depressed. They may forget their in-the-house manners. Your cat may become sullen or think up unfortunate forms of retribution for disrupting their surroundings and daily routine.
Do not get mad, you're the parent here. If your pets are showing signs of stress, be understanding. Don't coddle them but do ask your vet for assistance, if you think you need it. Carve out some time to spend with each pet, as you normally would - pet the cat or take your dog on a nice long walk. When your realtor is showing your house, take the dog for a ride or to the dog park or even consider using doggie daycare.
Make pet-specific relocation preparations
For any long-distance move, but especially when it is international air travel, enlisting the help of a professional pet relocation service can be the most powerful stress-reliever. Pets traveling on airplanes need airline-approved travel kennels and lots of very specific paperwork, which differs for every country.
With everything else on your mind, you'll be glad to have help from someone who already knows the regulations and can make all or most of the arrangements for you. It's peace of mind you can't get any other way, and it will free you up to spend more calming time with your pets as you prepare to travel.
Dogs and cats making an international move will have to be implanted with a microchip, but make sure your pets also have collars and tags with complete identification including who you are and how to contact you. If your animals aren't used to being confined to a kennel, introduce them to their new "travel home" early so they can adjust to it.
Arrange to have a toy or bedding that belongs to each pet available at your destination as soon as possible. If you can't carry these things with you when you travel, pack them for quick access once your belongings arrive. This will give your pets something familiar (besides you and the rest of the family, of course) in their new home. Reinforce that this home is now "theirs" by keeping them indoors or on a leash at first.
Do not sedate your pet(s)
Concerned as you are about the welfare of your four-legged family members, it is important to understand that sedation is not the solution. It is not recommended and airlines will not allow it because it can do your pets more harm than good. Animals who have been sedated lack the muscle coordination necessary to maintain their balance, and they can become even more confused. That merely adds to their anxiety and discomfort. Additionally, sedatives can cause cardiac and respiratory issues when your pet is up in the air at high altitudes.
Instead, taking positive steps before, during and after your move will help your furry family members relocate with as little stress as possible. You can read more about how pet shipping works here.
Starwood Animal Transport has rebranded to Starwood Pet Travel. We are still the same great company with the best team, just now with a slightly different name.
Subscribe to the Blog
Enjoy our content? Get them sent to your inbox!
Subscribe Now!
Related Posts
How Can I Reduce the Stress of an International Move on My Pet?
There's no question an international move can be stressful – for every member of your family, including your dog or cat. Here ...
Read More