Moving A Pet: Tips For Finding A Pet-Friendly Apartment
Published on: June 2, 2022 | Author: Starwood Pet Travel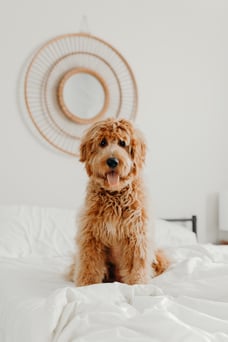 Whether you are relocating for a job, taking your family on a long-term adventure or finally realizing your dream of retiring to a warmer climate, one of your first orders of business will be finding a place to live.
It's one thing to travel to a foreign country for a visit, but if you're actually moving to another country, you wouldn't dream of leaving part of your family behind. Your pets will be moving, too. That can complicate matters, especially when it comes to finding a place to live. How do you go about finding a pet-friendly apartment so far away? It can be daunting.Many expats report finding appropriate accommodations – with or without pets – was the most difficult part of their international move. Their advice? Be resourceful and get an early start on securing your pet-friendly apartment.
What can you do?
Ask your employer who to contact or where to look. Talk to co-workers already in place. Call on your Facebook, LinkedIn and Twitter networks for help. Use the internet. Check for English-language newspapers with rental listings, and respond quickly. Look for local property management companies that offer apartment rentals. Check out local websites, Craigslist and Yahoo Classifieds.
Most countries and even specific cities have expat-specific websites and forums where you can find assistance or advice from those who have gone before you. Three examples are:
www.internations.org - a global site where you can meet like-minded expats.
www.expatica.com – which focuses on the UK, Central Europe, Moscow and South Africa.
www.expatriates.com – a site that literally spans the globe, listing many cities on every continent, including places like Dubai, Singapore, London, Sydney and numerous smaller cities as well.
When you get a lead, always ask about pet policies first. There is no point in pursuing apartments that won't allow your dog and/or cat. Also ask if there are breed or other restrictions. In Singapore, for instance, many apartments will accept small dogs but not cats.
Things to consider.
Do you want a furnished or unfurnished apartment? Furnished will cost more, which could be offset by moving fewer belongings, but pet-related requirements may be more stringent. What are your lifestyle preferences? Your new foreign city may not accommodate all of them, but you can try.
Think about travel distance to work, shopping, recreation and other amenities. Do you have kids as well as pets?
Where will they attend school and play?
Where will your dog be able to get exercise? Think about daily walks as well as other adventures like parks, hikes or the beach.
What is the term of your lease? If your employer re-assigns you before it ends or you want to move somewhere else, do you have an escape clause?
Are deposits refundable? Under what circumstances? Do you have recourse in case of a dispute?
Renting in a foreign country is different.
Just as with the culture and language, the rules of renting in your destination country may be different from what you're used to. Keep in mind these tips from seasoned expats:
Renting a brand-new apartment may seem appealing, but if it wasn't constructed to high enough standards, as the first occupant you'll be the one to learn what works and what doesn't. If your landlord isn't committed to repairs, you could be stuck with a lemon. That could hold true for non-new facilities, too. Ask about your potential property manager's response record.
Learn what documentation you'll need as an expat to rent in your new country.
Get legal assistance. The foreign fine print may be different, and you want to clearly understand every detail that pertains to you and your pets before you sign anything – both what is included and what is not included. These details will affect your rent cost and could possibly impact which belongings you move with your family and what your apartment lifestyle will be like after you arrive. In some countries, a local attorney may also be able to help you negotiate a lower rent.
Start right away!
Especially because you're moving your entire family, including pets, you want to find an apartment you can be happy with long term, rather than moving repeatedly. However, in many cities around the world, competition for apartments can be fierce.
Even if your employer is providing temporary housing for some set period, don't assume that will be enough time. The earlier you begin your search for a pet-friendly apartment, the more likely you are to find a place you like that's in your preferred price range.
Starwood Animal Transport has rebranded to Starwood Pet Travel. We are still the same great company with the best team, just now with a slightly different name.
Subscribe to the Blog
Enjoy our content? Get them sent to your inbox!
Subscribe Now!
Related Posts
Southwest Airlines Pet Policy
Like many airlines, Southwest accepts pets along with their humans. But while most airlines allow pets to fly as cargo, and ...
Read More