How To Ship A Cat
Published on: May 5, 2015 | Author: Starwood Pet Travel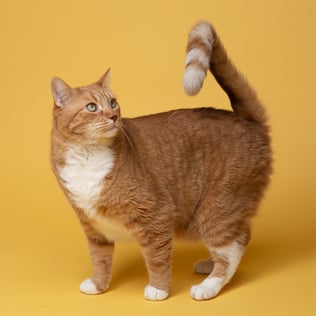 Most dogs are always up for a new adventure. They're used to riding in the car to go do something fun (or just be with their humans), so the prospect of moving doesn't automatically fill them with trepidation. Cats, on the other hand, are not amused by adventure. They want to stay home, where they have a predictable routine in a familiar environment. Nonetheless, sometimes you have no choice but to ship your cat.
What to do? Your company or government job is sending you to a new place far away. You're leaving Houston and heading to Dubai. Or you're leaving Chicago and heading to Singapore. Maybe you're not actually leaving the country – moving only across multiple states - but it's still too far to take your cat on a multi-day auto trip. You can't imagine life without your cat, but too many days in the car is too much togetherness, even for you.
In-Cabin Travel May Be Possible
If your cat isn't leaving the lower 48 states, you can give them a choice of ground or air transport. Look for a professional pet transport company that offers both options, so they can explain the pros and cons of each. If you choose ground travel, ask whether the company will make your cat ride with unfamiliar animals or if they can be the only one in the vehicle. If you have multiple pets, they should be able to travel together, with a customized itinerary.
If you choose air travel, you still have some options. Some airlines will allow your cat to ride in-cabin, under the seat in front of you, safe and secure where you can chat with them. You would need a soft-sided travel carrier that meet's the airline's requirements and it's a good idea to consider bringing a leash or cat harness in case a customs official or airline staff asks you to remove them from the carrier.
While this may seem like the most "personal" choice for your cat, consider your own needs, too, before making a decision. You'll have to deal with your cat 100% of the time and their carrier will be your carry-on. What seemed like a good idea and eminently doable can become a significant burden if your flight schedule is long or complex.
You'll need to make a reservation and pay a fee for your cat when you make your own reservation. Do this as early as possible, because airlines restrict the number of pets traveling in the cabin on each flight.
Travel as Manifest Cargo
That sounds harsh to any cat-lover, but the truth is airlines ship pets just like yours all over the world, all the time – more than 600,000 each year. Animals traveling in the hold are in an area that is pressurized, temperature-controlled and oxygenated. Choosing a pet-friendly airline ensures your sweet kitty will be treated with loving care.
Depending on your destination, you may be required to ship your cat via an approved pet shipper (like Starwood). That's a smart plan, anyway, because international travel is far more complicated. All airlines restrict pet travel under certain weather conditions, something you cannot predict in advance. And both airlines and your destination country will require various types of documentation for your cat.
If your cat is traveling domestically within the USA, you will need an up-to-date rabies vaccination and domestic health certificate completed by a veterinarian within 10 days prior to travel. For international travel, you'll need some or all of these additional requirements and documents, some of which are extremely time sensitive and can take weeks to obtain:
Additional blood tests
Additional vaccinations
Internal and external parasite treatments
International health certificate signed by a USDA-accredited vet
USDA endorsement of paperwork
Import permit
Quarantine reservations, if required
Flight arrangements
Additional customs forms
Entrusting your precious pet to a professional will give you peace of mind, knowing all is being handled correctly and they're in the hands of people who know just how important they are to you.
Prepare the Appropriate Travel Kennel
To travel as cargo, your cat must have an IATA-approved travel kennel. Cats love to investigate, so let them check out their new space gradually. Make it worthwhile, by placing their favorite blanket, toy or food in the carrier. The more they get used to moving in and out of it and sleeping in it, the more comfortable it will become.
That will help reduce their stress level, and yours, too. Your feline friend can arrive at their new destination relatively unruffled and ready to settle in to a new routine.
Starwood Animal Transport has rebranded to Starwood Pet Travel. We are still the same great company with the best team, just now with a slightly different name.
Subscribe to the Blog
Enjoy our content? Get them sent to your inbox!
Subscribe Now!
Related Posts
What You Need to Know About Moving Your Pet to Singapore
Singapore is a country well-known for having very strict rules about many things and importing pets is one of them. If you're ...
Read More