Thinking Of Moving To Hawaii With Pets?
Published on: August 25, 2015 | Author: Starwood Pet Travel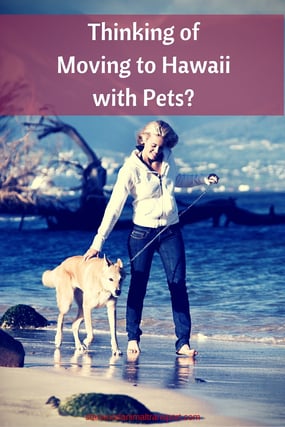 So you're thinking of moving to Paradise – sometimes known as Hawaii. It sounds divine, but it won't be if you can't take your beloved pup or kitty with you. You may have heard that Hawaii is a toughie when it comes to importing pets, but there is good reason for that. Nonetheless, with some advance preparation you can be confident Hawaii will welcome your precious four-legged family members.
What's the big deal?
Rabies does not exist in the Hawaiian Islands. If this terrible disease were to be introduced, it could easily devastate the eco-system, infecting indigenous wildlife populations, pets and people. That would significantly damage Hawaii's quality of life and vital tourism industry. To keep Hawaii safe, very strict regulations ensure pets entering the country are also rabies-free.
If you're thinking of moving to Hawaii with your pets, the process you'll have to follow depends on where you're coming from.
Rabies-free countries.
Very few countries around the world are considered rabies-free. However, if you're moving from Australia, the United Kingdom, New Zealand or the island of Guam, your pets will qualify for Hawaii's rabies-free importation rules. As long as your paperwork is in order, your pets will be eligible for direct release (no quarantine­).
You'll need:
Health certificate obtained within 14 days of travel and signed by a government-accredited veterinarian, certifying your pet is free of external parasites and signs of transmissible disease.
Affidavit swearing your pet did not leave your country of origin within the past 6 months.
Affidavit from the plane's captain or a senior station official swearing your pet traveled on a single aircraft, OR a signed affidavit detailing the circumstances under which your pet changed planes.
Your pet's travel carrier (which must meet IATA standards for cargo or baggage travel) must be sealed in a way that breaks the seal if your pet is removed.
Separate Guam Affidavit, if appropriate.
Anywhere else.
Most countries use a three-tier system to regulate pet import, identifying your country of origin as rabies-free, rabies-controlled or rabies-not-controlled. In Hawaii's case, there are only two categories – either you're coming from one of the four above-noted locations, or you are not. So if you're moving from anywhere else in the US or any other country, you'll have to follow very specific instructions to bring your pets.
Timing determines whether your pooch and/or feline is eligible for 5-days-or-less quarantine or must spend up to 120 days behind bars. Read up on this right away so you understand the timeframes involved.
5-day-or-less requirements:
At least two rabies vaccinations, more than 30 days apart, with the most recent one at least 90 days prior to travel.
Original, signed rabies vaccination certificates for each of the two immunizations.
Microchip, implanted before OIE-FAVN rabies blood test.
OIE-FABN rabies blood test performed by either Kansas State University or the Department of Defense Food Analysis and Diagnostic Lab in Texas. The lab must receive your pet's blood sample at least 120 days before the expected arrival date in Hawaii. They will report results directly to Hawaiian officials.
Original health certificate completed within 14 days of arrival.
Notarized Dog & Cat Import Form.
Veterinarian-performed treatment for ticks within 14 days of arrival, using a product that contains Fipronil or equivalent product.
All paperwork must be submitted at least 10 days before your pet's arrival, along with payment. Fees are per pet (no discount for multiple animals) and must be paid in advance, except for 120-day quarantine:
5-day-or-less quarantine, $224.
120-day quarantine, $1080.
Direct release.
Some airlines allow your purse-size pooch or kitty to accompany you in the plane's cabin. Nonetheless, the airline is still required to move your pet directly to the Honolulu airport's Animal Quarantine Holding Facility so Fluffy or Fido be inspected. This facility is open every day, but only certain hours. That matters because some pets qualify for direct release (all requirements met to the letter, no health problems).
In this case, you'll have to time your pet's arrival so they can clear customs (if they arrived on an international flight) and get to the inspection facility by 4:30pm. If you miss the cut-off time, they will be kept overnight, and if you don't retrieve them by 10am the next morning, you'll have to pay an additional charge.
Why worry?
A professional pet shipper can handle all these details for you. It costs money, but pet parents typically find the investment repays them handsomely in greater peace of mind, especially when they're in the midst of moving.
Pet transport experts will ensure your pup and kitty travel safely and comfortably and arrive qualified to spend as little time as possible in quarantine. You can even arrange for Fluffy and Fido to travel first, and be prepared to collect them soon after you arrive, rather than waiting till they clear quarantine.
What a relief! Aoha!
Starwood Animal Transport has rebranded to Starwood Pet Travel. We are still the same great company with the best team, just now with a slightly different name.
Subscribe to the Blog
Enjoy our content? Get them sent to your inbox!
Subscribe Now!
Related Posts
Can I Afford To Relocate My Pet When I Move?
Hundreds of thousands of pets - cats and dogs, not to mention an assortment of other small animals – travel with their owners ...
Read More