Please review our Travel Kennel Checklist to make sure your pet's kennel is acceptable!
Not sure if your travel kennel is acceptable for your pet to fly? Download our Travel Kennel Checklist to find out!
Ensure your travel kennel is IATA compliant
IATA (The International Air Transport Association) lays out the specifications that air travel kennels for pets must meet in order to ensure safe transport. The kennel must be large enough so that your pet can stand up, sit down, spin around and lie down comfortably.
Your pet's travel kennel must have the following features:
Ventilation on both sides, the back and the door
Be the appropriate size - your pet must have at least 2-3 inches of head, width & butt room inside the kennel
Must be NON-Collapsible and made of rigid plastic, metal or wood.

Have two (2) water cups

attached to the inside of the kennel door.
The top & bottom of the kennel must be secured by nuts & bolts. Clips or twist-locks are NOT permitted.
Front door locking mechanism
Is your kennel the right size?
Please provide us with your pet's measurements so we can be sure! We recommend using a Petmate Sky Kennel for your pet's travels. If you have a very big dog that won't fit in the giant size plastic kennel, we are happy to build a custom wooden kennel once you have provided us with your dog's accurate measurements.
You can purchase Petmate Sky Kennels directly from Petmate.com , Amazon or try your local pet store. The smallest travel kennel for cats and dogs that airlines will accept from the USA outbound is the 28-inch long kennel.
Measure your Dog
We will need your dog's accurate measurements based on the chart below to ensure that you have the appropriate size travel kennel. If the airline deems your kennel too small or unacceptable in any way, then your pet may be refused for travel on the day of departure.
To calculate the minimum internal kennel dimensions
LENGTH = A + ½ B
WIDTH = C x 2
HEIGHT = D + 2-3 inches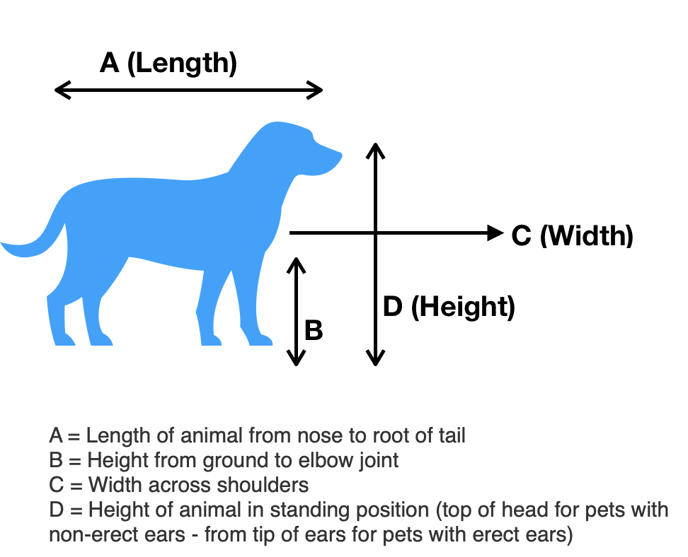 PLEASE PROVIDE US WITH PHOTOS OF YOUR PET & THEIR TRAVEL KENNEL
We will require photos of your cat or dog standing in front of their travel kennel like the images below. It is extremely important that we ensure your travel kennel is IATA compliant and is also the appropriate size for your pet. We recommend getting a travel carrier in advance when possible so you have plenty of time to get your pet acclimated. Click Here for a video on travel kennel acclimation.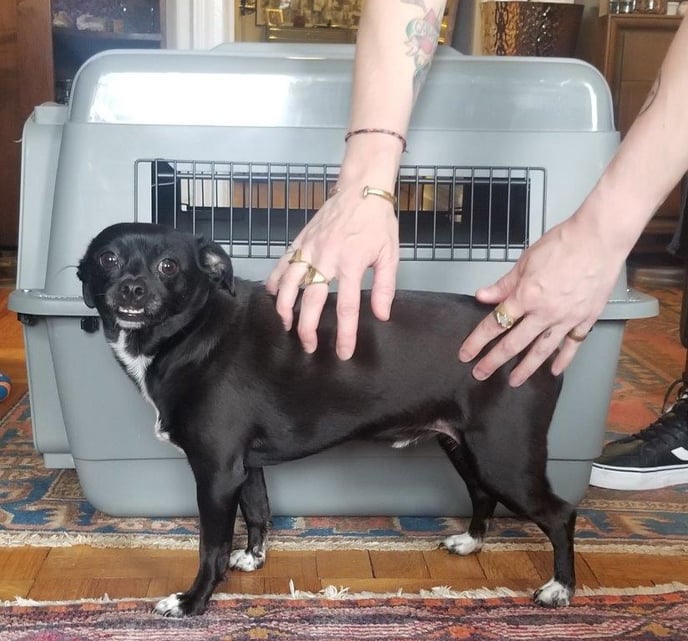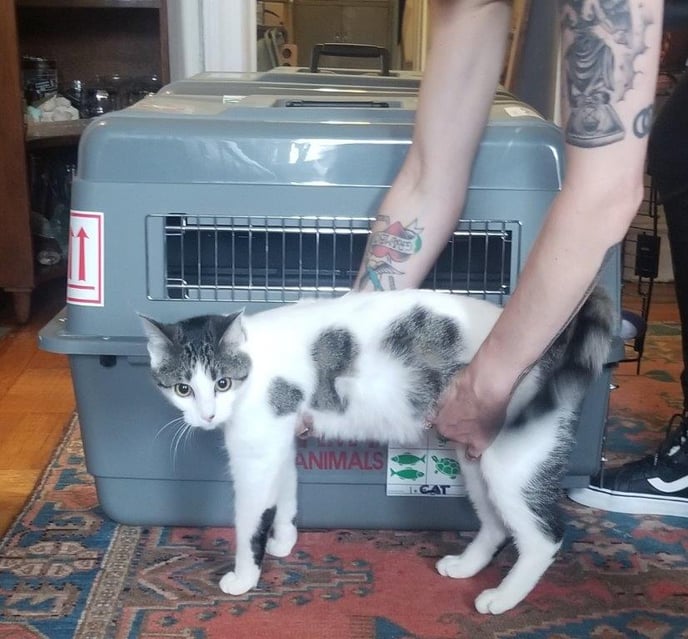 It's extremely important that your pet's travel kennel is the appropriate size and type or your pet may be refused for travel at check-in.