If you are importing pets into the United Kingdom and do not want to pay an import tax (VAT) for their import, you will need to apply for the Transfer of Residence (ToR).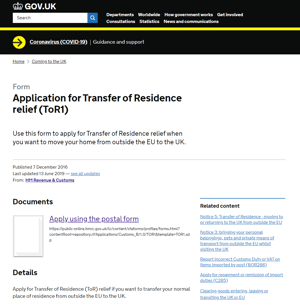 You may be already applying for Transfer of Residence to claim relief from customs charges for some of your personal belongings and other goods and you can also claim relief on your pet.
The VAT is an import tax not related to Starwood charges or fees. We cannot apply for the Transfer of Residence for you - you will need to do that directly with HM Revenue and Customs.
We have started to include a VAT charge in our quotes in case you are unable or do not need to apply for the ToR for your other belongings.
If you do want or need to, you can access the Transfer of Residence online form here.
From this page, select "Apply using the postal form" below Documents.
If you have trouble accessing it, please make sure your internet browser is up to date and avoid using Internet Explorer. Google Chrome and Firefox will work.
We can only advise what to fill in regarding the pet section. You will be responsible for any other required information or paperwork necessary to completed the ToR form.
What will you need to fill out the form?
Passport photo page OR NATO (North Atlantic Treaty Organization) orders or moving orders.
Proof of UK address (i.e. utility bill, mortgage or rental agreement, or evidence of temporary accommodation, such as a hotel booking)
Proof of non-UK address (where you are moving from - i.e. utility bill, mortgage or rental agreement)
Animal health certificate or pet passport (you will likely NOT have these items at the time you apply for the ToR, but you can provide the health certificate number later, once you receive it.)
Pet Passports are NOT issued in the USA. You will NOT have a Pet Passport unless you & your pet have previously resides in the EU or UK and have received one from an authorized EU or UK Veterinarian.
The Animal Health Certificate Number is issued by the USDA when they endorse your pet's international health certificate. This cannot be completed until between 2-10 days prior to travel, so you will NOT get this number until that timeframe.
Click the link above to get to the ToR form, then scroll to the bottom and click the green "Star Now" button to make a new application or amend an approved application. You will then need to follow the on screen instructions and provide the applicable information and supporting documents.
After you have submitted the application for the ToR, HMRC will email you a Unique Reference Number or ToR number. You will need to email this number to your Pet Relocation Coordinator so that we can clear customs without paying the VAT.
If the ToR number is not received by the time your pet lands in the UK, you will need to pay VAT directly to our local team before customs will release your pet to us. You can reclaim the VAT charges from HMRC directly after you receive the ToR number.