In order for us to submit your pet's flight request, we need proper photos of your pet standing in front of their travel kennel.
Many airlines are becoming extremely strict regarding pet kennel sizing and are requesting photos prior to accepting the flight reservation.
While we know it can be challenging to snap a photo of your furry friend, this is mandatory in order for us to secure the flight(s) for your pet. If we do not have acceptable photos or if your pet's kennel is too small then the airline might reject your pet's reservation.
If you don't provide us with acceptable photos of your pet and their travel kennel then we might have to ask you several times for more photos.
Here is an example of the
perfect

pet kennel photo:

The dog clearly has plenty of space to stand up, sit down, spin around and lie down comfortably.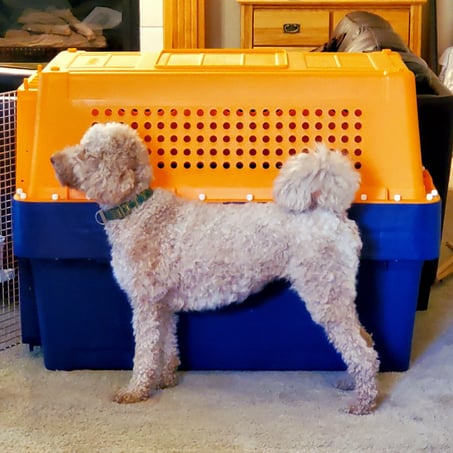 Here is an example of a
bad

pet kennel photo:

This dog is clearly taller and longer than the kennel itself, so this kennel would be rejected by the airline.