Let's review a sample travel schedule and see an overview of what's involved for moving your pet to Hawaii.
Let's personalize your schedule based on a sample schedule and your anticipated move date.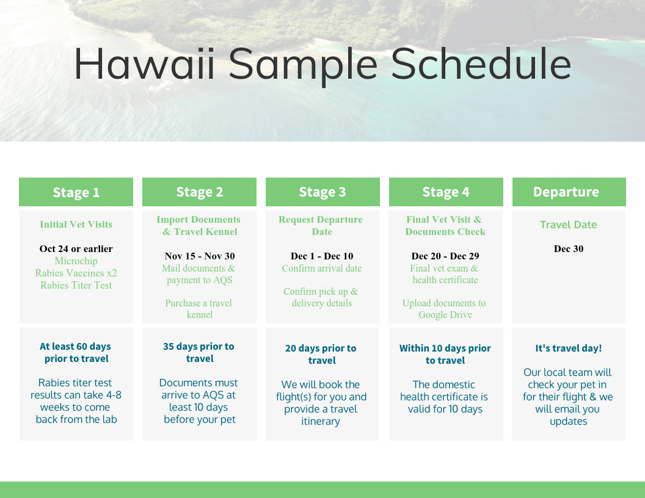 Stage 1: Initial Vet Visits
(60 days or more prior to travel)
First, you will need to bring your pet to the vet to ensure he or she has a microchip, two rabies vaccinations and complete the Rabies Titer blood test (aka FAVN).
Stage 2: Submit the Documents to Hawaii & Purchase a Travel Kennel (35 days prior to travel)
Once you receive a copy of the Rabies Titer test results from your vet, you will need to mail the last two rabies certificates, Cat & Dog Import Form and payment to Hawaii.
If you haven't purchased an airline approved travel kennel yet, make sure you do this in advance so your fur baby has time to get used to it prior to travel.
Stage 3: Request the Departure Date (20 days prior to travel)
When you have a travel date in mind for your pet, let us know and we will work on booking the flight for your pet based on availability. We will also arrange a local agent to check them in at the airport and handle the clearance in Honolulu (if that is part of the service you selected).
Stage 4: Final Vet Visit & Document Check (Within 10 days prior to departure)
Once the flight is confirmed, you will need to schedule one last appointment with your vet for an exam, parasite treatment and health certificate for travel. This can only be done within 10 days prior to your pet's flight.
Day of Departure
Our local team will collect your pet from your residence or meet you near the airport and will check your pet in for their flight! Bon voyage and happy travels!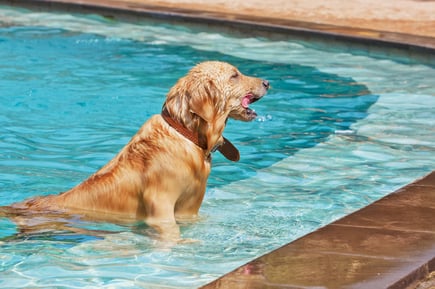 Ready to get the ball rolling? Click here to get started!